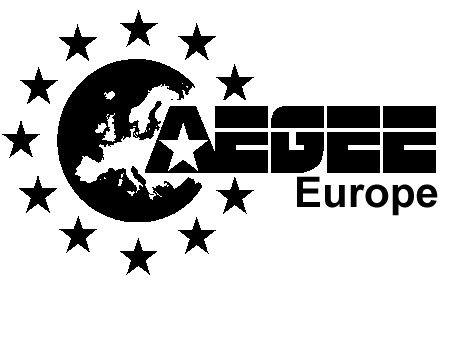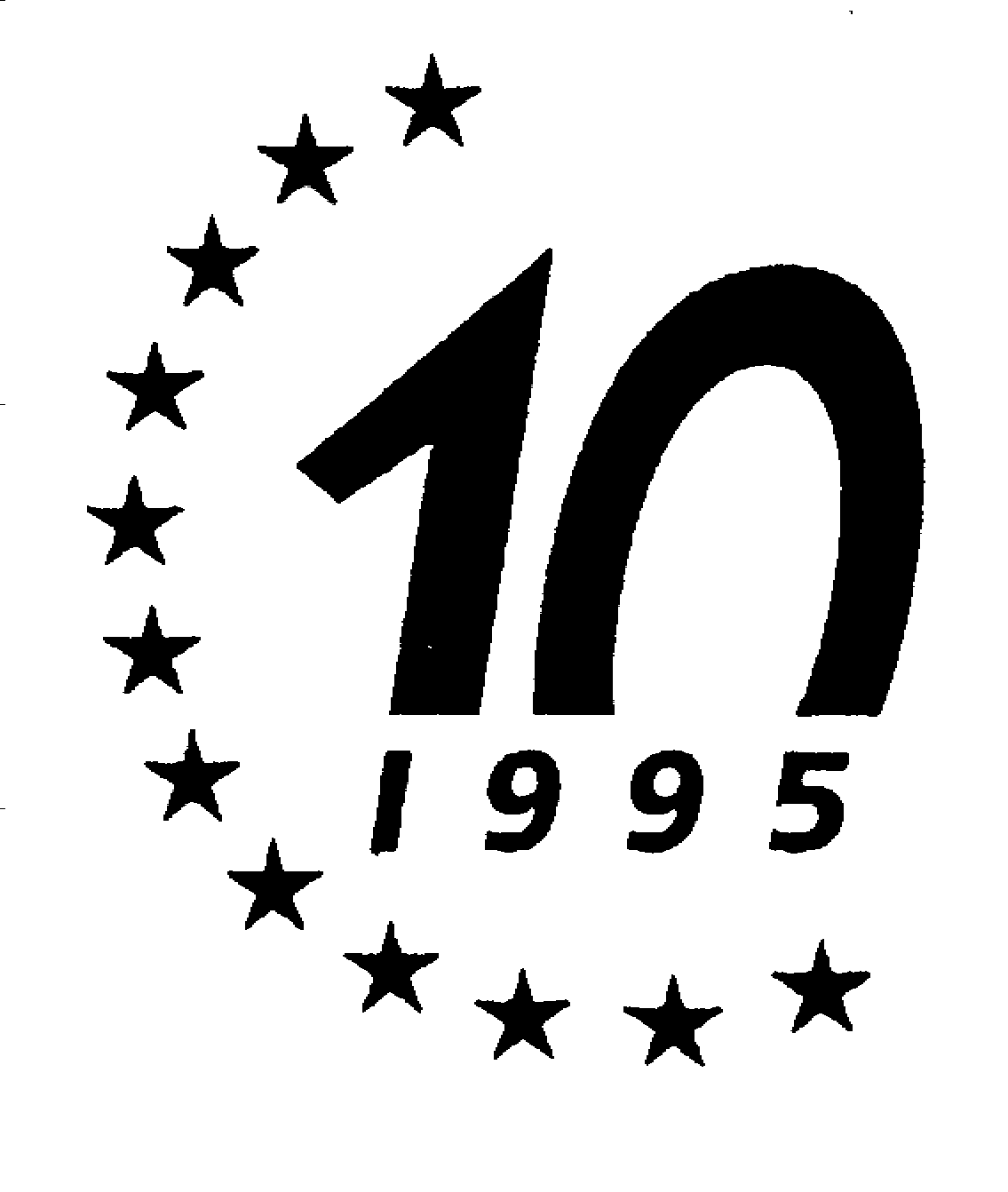 Democracy in Ukraine:

Challenge for Youth

FINAL REPORT

on

Case Study Trip Ukraine '95

held under the auspices of Mr. Daniel Tarschys,

Secretary General of the Council of Europe

Contents:

Foreword 3

Introduction 4

PART I.

Chapter 1. Economy and the Attitude of Young Generation 5

1.1. Introduction to the economic situation in Ukraine 5

1.2. Attitudes of students in Ukraine towards the economy 5

1.3. Conclusions 9

1.4. Suggestions 9

Chapter 2. Minorities and Human Rights in Ukraine

2.1. Introduction to the topic 10

2.2. Overview of minorities division in Ukrainc 10

2.3. Thc Crimea case 10

2.4. Students' attitude towards minorities 11

2.5. Inter-ethnic communication 11

2.6. Perception of ethnic cultural differences 12

2.7. Human rights situation 12

Chapter 3. Politics and External Relations

3.1. Introduction to the topic 14

3.2. National identity in Ukraine 15

3.3. Youth attitude towards current political development 15

3.4. The Political role of the Ukrainian Youth 16

PART II.

1. The diary (day by day) 18

2. General topics 20

2.1. Hygienic standards 20

2.2. Students life 20

2.3. Appearance of buildings and cities 21

2.4. People and their behavior towards foreigners 21

2.5. Shops and shopping 22

2.6. Everyday problems and shortages 22

2.7. Social gaps 23

2.8. Differences between Western and Eastern Ukraine 23

2.9. Public transport 23

3. One more sentence 24

4. Thanks 25

The annex (the questionnaire) 26

Foreword

This booklet contains the final report of our Case Study Trip to Ukraine concentrating on today's problems of this country and on the attitude of the young Ukrainian generation towards them. This report was prepared by young Europeans and is written from their perspective.

We hope that this paper will attract your attention and will be a valuable source of knowledge and information about Ukraine. We wanted to prepare a booklet reflecting the intercultural character of our study trip. Therefore some of our findings and results represent a compromise between members of our intercultural team. This, on the other hand, ensures objectivity and a larger context and scope of this report, which is truly in European spirit.

We were aware that such a character of this publication would cause that not everything could have been covered in detail here. The prime objective of our trip was to introduce Ukraine with all specifics to young Europeans enabling them to understand the development in this country and, most of all, to understand people living there and their views. At the same time we wanted to present Europe and Europeans to Ukraine, because it still is very difficult for Ukrainians to travel abroad. We wanted to share our ideas about the future of Europe and European spirit with them.

As members of AEGEE (Association des Etats G¾ n¾ raux des Etudiants de l'Europe) we believe that there is a strong need in Europe for co-operation between all nations and especially among youth across the continent. Only in this way prejudices can be lifted and mutual understanding can be established. We do not want to rely only on the information provided by mass media. We want to obtain the basic information about other cultures and nations ourselves. For this sake young people must travel, meet people, talk to them, discuss their problems with them and, by these means, learn from each other. Only in this way we can declare ourselves to be open-minded Europeans.

The importance of these efforts is obvious from the following example: before departure, we conducted a survey among the members of our intercultural team aimed at examining their expectations about Ukraine and their perception of this country. Most of them had not been in Ukraine before. The answers sounded like this: "Ukraine is a...ruined and destabilised country, with a lot of corruption, Mafia, vodka. Ukraine is polluted (Chornobyl), there are only large fields of sunflowers as far as you can see, cities are in decline, people are poor but hospitable and nice...".

Please compare these expectations with the observations and impressions contained in this report! The authors are the same - there only is a two-week time difference between these lines. All being members of a European student organisation we also tried to share our European spirit with our Ukrainian friends. The importance of our decision to select Ukraine as destination was underlined by the visit of the patron of AEGEE-Europe and of our Case Study Trip, Mr. Daniel Tarschys, the Secretary General of the Council of Europe, to the capital of Ukraine, Kyiv. The meeting with the head of this pan-European organisation gave our efforts a wider dimension: Europe meets in Ukraine and Ukraine belongs to the family of European nations.

Symbolically, Ukraine was accepted by the plenary session of the Council of Europe as the 37th member on the September 26, on the same day, when we finished our study trip. We believe that our contribution will increase the contacts between Ukraine and the rest of Europe and in final stage will stimulate the involvement of Ukrainian citizens in the process of European integration and raise their interest in Europe.

We all would like to wish all the best to Ukraine on the way towards a normal European and democratic country.

Introduction

We divided our paper into two sections. The first one is more complex and is focused specifically on youth issues. Second part is less scientific and is mainly devoted to the background of our study trip.

You can find results of our investigation on youth issues such as the attitude of young generation towards democracy, market economy etc. We based our findings on two main pillars:

a) Our personal observations such as lectures, discussions with people, own experience, visits, meetings, etc. More details can be found in our dairy.

b) Questionnaire. In the beginning of our work we had divided our group into 4 smaller sections (working units). Each unit was specializing in one of the following areas: Economy and the Attitude of Young People, Politics and Foreign Affairs, Cultural Aspects, Human Rights and Minorities. Each of these working units worked out the questions for our research (you can find them as an annex). Having this questionnaire we were collecting answers of students in four towns: Lviv, Zaporizhzhia, Kyiv and Sevastopol. We tried to keep the balance between sexes, nationalities. In general. we were asking students in the age range of 17-27 years.

Even though the statistical criteria for professionally conducted research could not have been met, this questionnaire provided us with basic information and gave us some clue about matters being under our investigation.

This was our background for our conclusions and evaluation. The group was having internal discussions about all subjects and topics. We covered almost all aspects of our topics due to the multi-national character of the group. This way everybody saw the priorities differently and in the different areas, which had enabled us not to omit any significant facts and fields.

The second part of this paper consists of our diary, where all details about our official program can be found. In addition to the first parts we have decided to collect our personal opinions about certain spheres of life in Ukraine such as public transport. Everybody was asked to share his/her opinion or experience with the person responsible for the given topic. Then this person wrote the evaluation of all answers. This is the origin of these topics.

We wish you a pleasant reading!

Part I

Chapter 1

. Economy and the Attitude of Young Generation

(written by Klaus Liepach and David Stulik)

1.1. Introduction to the economic situation in Ukraine

First economic reforms in Ukraine were undertaken during the presidency of Leonid Kravchuk (1990-1994).

New phase in reforming the country's economy started with Leonid Kuchma, who had replaced L.Kravchuk after the presidential elections in summer 1994. This former director of a missile company managed to win the support of almost all main political forces in Ukraine. He is now enjoying the support ranging from national democrats from Western Ukraine to Agrarians and Communists (those were supporting him during the elections).

The pace of reforms implementation is being speeded up. L.Kuchma is successfully trying to increase his influence over the national economy and to decrease the role of Parliament, which was the main obstacle for introducing reforms. His political skills and will helped him to convince the USA and the IMF that Ukraine is on the right track, which resulted into $ 2 bin loans.

The new plan of economic reforms was started in November 1994, three months after voting L.Kuchma into his office. His plan consisted of the following points:
1) Price liberalisation (price restrictions were lifted).

2) Liberalisation of foreign trade (eased trade restrictions, stimulated exports).

3) Privatisation (first 100 companies were ready for sale).

4) Monetary policy (some restrictions on banks were lifted, one exchange rate was introduced).

5) Agricultural structural reform (private ownership of land was allowed).
The prime objective or his program was to stimulate exports, stabilise monetary and financial situation increase direct foreign investments and to develop foreign trade. The first results are becoming apparent: the tight monetary policy helped to decrease the monthly inflation rate to 2%, the number of SME (small and medium-size enterprises) has reached 100 thousands, which account for 12% of GDP.
The current biggest economic problems are: dependence on oil and gas supplies from Russia and Turkmenistan, decline of GDP, falling living standards of population, slow pace of privatisation, inflation and soft fiscal policy.
In September 1995 (when we were visiting Ukraine) the meeting of leading country's economists with the President and the Prime minister took place. The significant change of economic reform program was announced. Being under the pressure of public opinion L.Kuchma in his speech addressed to this meeting declared that "...Ukraine can not simply copy the western economic model, but, on the other hand, must take into account its own specific problems. Therefore our (Ukrainian) task is to work on the state-regulated and social-oriented model of the economy". The pure monetaristic policy was abandoned and more credits and loans were promised to state-owned enterprises. This could lead towards increased inflation and deteriorated other economic indices.
1.2. Attitudcs of students in Ukraine towards the economy
The first question of the economic section of the questionnaire (question no.7 - see the annex) inquired in what kind of company young people want to work in later on. Five different answers were possible: state-owned, private Ukrainian, private foreign, set up your own business, or none of those. About 90% of all students questioned want to work in the private sector, but twice as much female students want to work for a state-owned company as males (12% compared to 7%). Also many more Russians than Ukrainians want to work in the state sector (16% to 9%). No significant difference can be observed between male and female answers concerning the private sector. All three possibilities were chosen with about the same frequency although working for a private Ukrainian company was slightly less popular than the other two possibilities.
Question no 7
What company do you want to work for later on?
total

male

female

Ukrainian

Russian

number

%

number

%

number

%

number

%

number

%

State owned

9

11

2

7

7

12

4

9

5

16

Private Ukrainian

25

27

8

27

17

28

15

33

5

16

Private foreign

28

31

10

33

18

30

15

33

11

34

Set up own business

28

31

10

33

18

30

12

26

11

34

Total

20

100

30

100

60

100

46

100

32

100
If the answers of Russians and Ukrainians are compared, more Russians than Ukrainians are in favour of setting up their own business. But significantly less Russians want to work for a private Ukrainian company than Ukrainians. This might be due to the tensions between the nationalities in Ukraine and could be an explanation why many more Russians than Ukrainians want to work in the state-owned sector. It seems that state-owned companies are still associated with the Russian dominance in Soviet times. The high percentage of students wanting to work in the private sector leaves the impression that they have a positive attitude towards market economy. About one third of them is thinking about becoming active themselves and setting up their own business. In particular a lot of students in Sevastopol are thinking about this possibility. During conversations we noticed that many students are already working in addition to their studies in order to earn some money for their living. Some of them have already setup their own business, especially in areas like foreign languages or computer sciences.
The next question (no 8) we asked concerned the role of the government in economic affairs. The question was how far the government should intervene into market affairs. There were four possible answers. The government should intervene a) not at all, b) just as much in order nobody is starving, c) should guarantee jobs and housing, d) should control the economy.
Question no 8
How far should the government intervene in market affairs?
total

male

female

Ukrainian

Russian

number

%

number

%

number

%

number

%

number

%

not at all

5

6

3

9

2

4

3

5

2

5

as much as nobody is starving

26

30

10

30

16

28

20

38

6

18

guarantee jobs and housing

39

44

15

46

24

46

20

38

19

56

control economy

18

20

5

15

13

24

10

19

7

21

Total

88

100

33

100

53

100

53

100

34

100
In general there are many students who are in favour of the government maintaining a strong role in the economy. 20% of all students questioned had answered that the state should control the economy and 45% said that the government should ensure jobs and housing. Only 6% said that the government should not intervene at all. Female students are more in favour of state control than males (24% to 15%), whereas more male students would like to see the government refraining from intervening in the economy (4% to 9%). A difference in their attitude between Russians and Ukrainians can also be observed. They agree more or less about the extreme measures (not at all - control), but show significant differences in the more moderate options b) and c). Russians would prefer a stronger governmental role than would Ukrainians. 56% of all Russian students asked said that the government should guarantee jobs and housing; only 38% of all Ukrainians gave this answer. On the other hand 38% of the Ukrainians want the government to intervene as much that nobody is starving and only 18% of Russians gave this answer.
As a third question (no 9) we asked what they are most afraid of. The possible responses were: unemployment, being not employed in your profession, inflation, social unrest (like strikes), corruption and Mafia in the economy, high taxation. being sold out to foreigners (concerning Ukrainian economy) or any other (to be specified). Several responses could be selected.
Question no 9
What are you afraid of? (in %)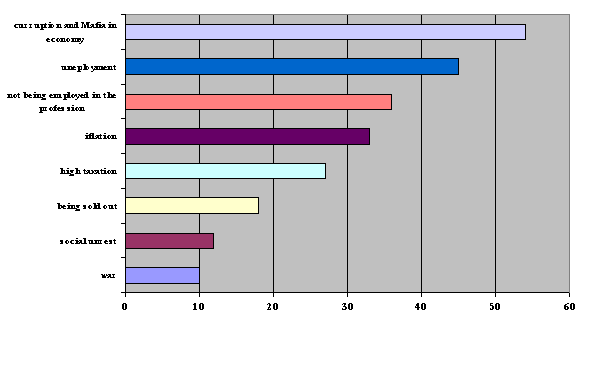 Corruption and Mafia in the economy is considered the biggest problem. More than half of the students (53%) are worried about it. Second comes unemployment. 42% of all students questioned mentioned that they are afraid of becoming unemployed after completing their studies and 35% of students think that they will not find a good job relevant to their studies. As further serious problems were mentioned inflation (31%) and high taxation (26%). Foreign investment seems to be welcomed in Ukraine. Only a rather small number (17%) are afraid of Ukrainian companies being sold out to foreigners.
There are slight differences between male and female students. Male students mentioned more possible items they are afraid of than female students did. They mentioned on average 2,7 items compared to 2.3 for female students. There is also a different order of importance. Both are most afraid of corruption and Mafia in the economy but more male students are worried about it (63% mentioned it) than female (48%). Unemployment is the next most important problem male students are afraid of (53%). Female students worry slightly more about not being employed in their profession (38%) than of unemployment in general (37%). Male students worry less about finding a proper job (30%); it takes only 5th place in their list whereas it takes third place for female students. Inflation and high taxation is considered as a bigger problem among male students (high taxation 40%, inflation 37%) than among female (taxation 20%, inflation 28%). Both male and female are least afraid of social unrest.
More differences can be seen between Ukrainian and Russian students. Russian students appear to be much more worried than Ukrainian students are. The average number of items mentioned per person was 3.0 for Russians and only 2.0 for Ukrainians. They also have a different order of importance. 66% of all Russian students mentioned being afraid of unemployment, second comes corruption and Mafia in the economy (53%). The same percentage of Ukrainian and Russian students are afraid of corruption and Mafia in the economy, but among Ukrainians it was the most mentioned problem. Not being employed in their profession comes next (39%). Unemployment takes only fourth place (30%). They are also less worried about high taxation (21%) and inflation (24%) than their fellow Russian students (38% inflation, 34% taxation).
A particular problem appears to be the situation on the Crimean peninsula. Nearly half of the students questioned there said they were afraid of war without being given this possible choice and without any difference between male and female students. All of these students are of Russian nationality. They are the only students who mentioned war as an issue for concern.
In the last question regarding economy we asked students what country they would prefer as a leading economic partner of Ukraine. We did not present any possibilities so students could give their own answers. Finally we have divided all answers into the following order: I) USA and Canada. 2) Russia, 3) the European Union, 4) CEFTA countries (Czech Republic, Hungary, Poland, Slovakia, Slovenia) and 5) others (like Japan).
Generally, about 65% of all questioned students prefer Western countries for foreign economic partnership.
Question no 10.
Which country do you prefer as a leading trading partner? (in %)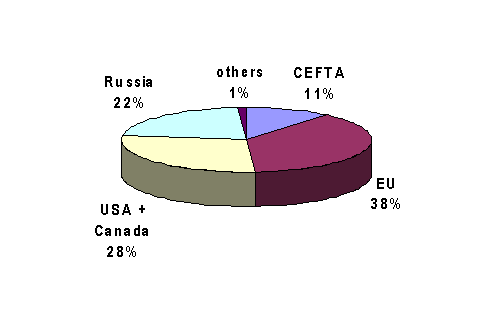 The first difference, which we discovered was between males and females. Female students generally prefer North American countries (34% of them comparing to 18% of males). Male students would like to see the EU countries among the leading economic partners of Ukraine. Russia was mainly quoted in regions and towns with strong Russian influence and large Russian minority like in Sevastopol, but even young Russians are in favour of Western countries (totally 61%). Young Ukrainians mentioned Russia as a suggested main economic partner in 12% of all cases comparing to 36% among Russian nationals. This only confirms the different orientation between those two national groups. Another surprising fact was discovered regarding the CEFTA countries. Only 11% of total chose these countries, which seems to represent the fact that currently young people are seeking the solution of Ukrainian economic problems in the contacts with Western countries rather than finding it in contacts with former "brothers", members of former Comecon. This tendency was striking, especially in Lviv, which is only one-hour bus-drive from Poland. In this town students prefer mainly the EU countries. The possibility to cooperate in economic field with other countries in transformation in Central and Eastern Europe was not mentioned at all. Among the EU countries Germany and France were mentioned most of all.

1.3. Conclusions

The results of the first two questions concerning economy support the impressions we formed during personal conversations with students in Ukraine. Most of the students are in favour of a market economy but actually hardly know what it means and what risks are connected with it. In Sevastopol, where we found the highest percentage of students wanting to set up their own business, 85% are in favour of a strong governmental role and chose the response c) or d) in question 8, which is the highest percentage of all cities we have seen in Ukraine. This example shows that most students have still not realised the consequences and risks a market economy carries for their own lives (e.g. unemployment) and that in a market economy they have to take more care of their own. They are still longing for the social security of the old Soviet state. This is supported by the fact that many students are worried about unemployment. Also the problems like corruption and Mafia make many students call for a strong state role.

During personal conversations we often got the impression that they have a rather simplified view of a market economy. Quite a lot of them think that once a market economy is introduced the upturn will come by itself over night. Some of them think the West is a Utopia where "the money grows on the trees". This may be due to the lack of realistic information about western society during Soviet times and even afterwards. Quite a large number of students are in favour of shocked instead of gradual reforms. It seems they are fed up with waiting for real changes.

1.4. Suggestions

Since a big problem appears to be the lack of proper information and knowledge about market economy and its consequences, we think it is important to combat this. Therefore, we think for every student there should be lectures given on market economy which gives them a basic knowledge, and not only for students of economics. This raises the problem of trained lecturers. Secondly, we strongly suggest introducing a programme that would enable students in Ukraine to study for some time in Western Europe. We think it is very important for students in Ukraine to establish the contact with Western students and that they see how things are going on in the West. Even spending some time in the Visegrad states would help them. Simplifying visa procedures on both sides would help to establish more contacts between Ukrainians and students from abroad. Another good idea would be the creation of a voluntary service of western students working as language assistants for some time in Ukraine with the support of European institutions.

Chapter 2

Minorities and Human Rights in Ukraine

(written by Angele Postolle)

2.1. Introduction

Three conditions for accession to the Council of Europe (free elections, a new Constitution and a legislation to safeguard national minorities) have been raised many times as serious obstacles preventing Ukrainian membership.

Parliament and presidential elections held last year in Ukraine were recognized as free and fair. Even though Ukraine still hasn't adopted a new Constitution, one hundred and forty amendments to the current one were accepted. Problems remain about the use of Soviet criminal code and death penalty. Ukraine also introduced a national minorities legislation and created a ministry to deal with this question as long ago as 1991-1992. Ukraine even introduced quite progressive policies such as financing the repatriation of Tatars to their Crimean homeland (more likely to counter-balance the ethnic division in Crimea).

As a result of all these steps, Ukraine was finally accepted on the 26th of September as the 37th member of the Council of Europe.

Below you can find the general impressions of how almost one hundred students asked in four different and significant towns of Ukraine, see the situation of minorities and human rights in their country. Therefore these reflections and statistics should be understood cautiously. A short overview of Ukrainian ethnic division should help to explain their reflections.

2.2. Overview of Minorities Division in Ukraine

The population of Ukraine is estimated at 51.8 millions, but Ukrainians represent only 73% of the total population. 22% of the population is recognized as Russian but their real number is higher because of mixed families and others, who are living in Ukraine, but prefer to identify themselves as Ukrainians. This minority is relatively culturally, economically and politically dominating due to Soviet and pre-Soviet traditions, as well as the potential protection coming from Russia.

Even though most Jews emigrated to Israel, they still represent 1% of total population. Polish, Tatarian, Bielorussian, Hungarian, Gagausian and Gypsy minorities together represent up to 4% of the total population.

Each of these minorities (except Gypsies) is concentrated in a specific region:

Poles are around 5 % in Lviv, Tatars are only in Crimea, Russian minority is getting bigger going from North-West to South-East.

Following are the ethnic division in the four towns that we visited:
Lviv: 80% Ukrainians, 15% Russians

Kyiv: 55% Ukrainians, 40% Russians

Zaporizhzhia: 42% Ukrainians, 66% Russians

Sevastopol: 10% Ukrainians, 80% Russians
2.3. The Crimea case

In Crimea, Ukrainians are a minority and most of them are heavily russified. There are more than 60% Russians, around 10% Tatars, 3% Gagausians. This explosive cocktail results all over Crimea into aggressive signs on walls like - "Russians will never give up Sevastopol", "Ukrainians, out of Crimea", and is caused by a complex history.

In the thirteenth century Tatars entered Crimea. They established a semi-autonomous Kahanate (from the fifteenth century until its incorporation by Russia in 1783). In 1943-44, during the Red Army liberation of Crimea, Crimean Tatars (at that time 20% of the population) were deported mostly to Siberia for alleged collaboration (more likely for bourgeois nationalism). In 1954 Crimea was offered to Ukraine, when the end of Soviet Union was unthinkable. In 1988, Soviet regime allowed Crimean Tatars to settle in Crimea.

So far, having in mind the Russia's messy embroilment in Chechnya and on Crimea's increasing weariness of its feuding leaders, Ukraine seems to have avoided the worst-case scenario in attempts to maintain its fragile integrity. Ukrainian authorities have consistently reacted with cautiousness, in order to avoid any kind of civil unrest that plagued other former Soviet republics. The March (1995) resolution seems to put the end to Crimean separatism. This resolution enables Ukrainian authorities to overtake a great control over all Crimean institutions, whose activities could violate Ukrainian law.

2.4. Students Attitude towards Minorities

Generally students in Ukraine largely overestimate the amount of all minorities; there is obviously an underestimation of official statistics as mentioned before, but probably students overestimation of minorities results from the Soviet and pre-Soviet theory of inter-nations brotherhood. Soviet Union meant to be a community of different nationalities that could live together and anywhere within the Union. It seems that students still, in some way, refer to this picture of a great mixture of nationalities. This statement is confronted by the fact that Ukrainian identity has so far hardly overcome Soviet identity. In Sevastopol, this situation might also result from the lack of information.

Going more into details, the overestimation of Russian minority may be caused by the growing dependence on Russian state, as well as by Russian imperialistic tendencies being stimulated by fears of Russians living in Ukraine. This may also result from the Russian cultural domination. Jewish minority is even more overestimated (again in relation to official statistics, which are hardly reliable). This is probably because this minority, as small as it can be now, is still culturally active and rich. In Lviv this situation could also result from the historical complexity of the town seen as the town of three nations: Ukrainian, Polish and Jewish ones.

The overestimation of Tatar minorities is important because of the problems connected with their return back to Crimea. There is a general feeling of injustice because of Tatars' rights over state-owned lands. We could hear too simplified statements that Tatars had privileged access to best lands, that they are too aggressive and culturally not suitable for the integration to the society.

2.5. Inter-ethnic communication

The students' answer to the question "do you have friends from different minorities?" was anyway optimistic and showed a great inter-national communication.

Three out of four Ukrainian students have Russian friends. This figure is almost the same all over Ukraine. In Lviv, three out of four Ukrainian students also have Polish friends. Because Poles live mostly in Lviv. In other parts of Ukraine only 20 to 40% only of (Ukrainian or Russian) students have Polish friends.

Even the communication with Tatars (which also reflects a good involvement of Tatars into universities) is quite high. Globally 11% of all Ukrainian students and 40% of Russian students (because Russians constitute the majority in Crimea) claim to have Tatar friends. In Crimea itself, 60% of Ukrainian students and 40% of Russian students have Tatar friends.

The most striking result concerns relations with Jews (1% of the population!). More than one out of two Ukrainian students claim to have Jewish friends, whereas (except in Kyiv where 60% of Russian students have Jewish friends) they seem not to have many contacts with Jews. We felt there were some good connotation of having Jewish friends.

2.6. Perception of ethnical cultural differences

In Lviv, Ukrainians, who feel Western and very proud of being independent, were all aware of cultural differences even regarding their friends. Anywhere else, only around one out of two feels any differences. These students only feel small or insignificant difference to Russians; they also feel differences rather about culture than about mentality (especially as far as Jews are concerned). They stress anyway more differences to Tatars.

Most Ukrainian students (60%) also perceive this national mixture as an advantage for Ukrainian society especially in Lviv (95%), where Ukrainian identity is mature enough to handle three different minorities, and where Russian minority is smaller. They see most advantages for Ukrainian culture but also for economics, even sometimes for politics or sport competitions. Nevertheless, the fears are biggest among Ukrainian students in Sevastopol. Most of Russian students (60%) also feel comfortable in such mixed society.

2.7. Human Rights situation

We decided to ask students what they thought about six kinds of Human Rights (see the annex) which are especially of their concern.

Students are generally satisfied with the situation of freedom of education in Ukraine. Russians seem to be even a bit more satisfied with the situation in education than Ukrainians. Anyway three main problem areas should be stressed. Firstly, freedom of education is sometimes affected by the expensive character of some private universities and lack of places in state-owned universities (only in Ukraine?). Secondly, if Russian language used to be the official language at school and university, this tendency has significantly changed in favour of Ukrainian language (it is supposed to become the only one official language in universities). As a result, some Russian students were excluded from the university in Kyiv for speaking or writing in Russian language. Nevertheless, in other universities like in Lviv each student can choose the language, in which he will write exams (though the lectures are in Ukrainian language). Finally, the most commonly mentioned problem is corruption being among administration and teaching staff.

Students are satisfied with freedom of expression and hardly state any problems. Anyway, we could hear from students about the violation of freedom of speech administration and teaching staff, for instance. Students are only getting used to speak freely, and are not interested to touch current hot issues.

They don't see any violation of freedom of religion, but they are sometimes worried about the peaceful co-existence of different religions. Freedom of association seems to be rather good, but the meaning of this freedom is not clear enough for them yet so they don't use it much. In Sevastopol and Kyiv Russian students were more critical on this subject.

Freedom of movement, because of visa problem, seems to be quite a critical issue. Ukrainians are usually even more dissatisfied especially in Kyiv and Zaporizhzhya (far from the Western borders). Surprisingly even in the closed town of Sevastopol people don't feel to be limited in their freedom of movement. The result is that a very small percentage of students have been abroad.

Finally, freedom of media is sometimes perceived as problematic especially among Russians. In Sevastopol almost 60% of Russian students feel that this freedom is violated (probably because of March resolution aimed at reducing Crimean separatism). Despite this fact media independence is still rather unknown term in Ukrainian political culture. The mass media in Ukraine represents a wide-political spectrum, but true independent journalism (with high professional and ethical standards) has not yet developed. Russian-language media are still overwhelming and majority of Ukrainians still thinks that the government should control the activities of radio TV broadcasting as well as newspapers.

Taking into account the ethnic complexity of the country and ambiguous relations with Russia, Ukraine managed to avoid the worst-case scenario in attempts to maintain its fragile integrity. Ukraine also appears to maintain a relative political independence from Russia, unlike Bielorussia, without any Russians ostracism, unlike Baltic states.

Students depict a relatively harmonious society and positive inter-ethnic communication. Anyway they don't represent the whole Ukrainian society. We all felt leaving Ukraine that there is a big danger of naive and artificial search for identity, which can be easily turned into nationalism.

The future harmony of Ukrainian society is, according to us, closely connected with the way how Ukrainian citizens manage to build a real independent state, while leaving the right place for Russians living in Ukraine, so that they don't feel to be discriminated or being forced to integrate into Ukrainian society.

Chapter 3.

Politics and Foreign relations

(written by Bart Neerscholten, Alberto Luis Alfonso Clavero, David Katzlinger and Trent Zummallen)

3.1. Introduction

The first president of independent Ukraine was Leonid Kravchuk. He pursued the construction of independent Ukraine. Although he made a start with economic reforms he refused to tackle the question of real economic reforms. The economy was in a state of hyperinflation and recession. The level of Ukraine's energy debts to Russia was alarming. This caused unrest among population especially in Eastern Ukraine and was one of the main factors that brought Leonid Kuchma, the current president, to the power.

Kuchma won the 1994 elections promising to stabilize the economy and restore good relations with Moscow. But after a few months he realized the depth of the economic crisis and the IMF (International Monetary Fund) granted credits under certain conditions. Thus be became a market reformer.

In October 1994 he persuaded the Parliament to adopt a radical program of liberalization and stabilization. He began to step hack from close cooperation with Moscow (not on economic level) and re-establish the authority over Crimea.

However Kuchma was and still is engaged in a battle with the Parliament over the division of power. The Ukrainian constitution is still Soviet one. Until now the new one hasn't been accepted. There have been some changes and adaptations in the old constitution. The most important has been the agreement on June 8 1995 between president Kuchma and a 2/3 majority of deputies of fragmented Ukrainian legislature1.

The pact2 and new law have both immediate and long-term political and economic implications. Both strengthen Kuchma's hand in Ukraine's conversion to a market economy and modernization of its government system. The legislature gives him the exclusive right to form a Government, issue decrees and overrule local councils.

The agreement replaced the current constitution until the new one is adopted. Kuchma promised that a new constitution would be adopted not later than June 1996 after voters approve it in a national referendum. With this agreement Kuchma can better implement the delayed economic reforms. Without successful economic reforms Ukraine's ability to emerge as a major player on the European scene will be severely constrained.

The economic performance of Ukraine is the worst of all countries in Eastern Europe. The influence of Russia is too big. 85% of total economic relations are with Russia. Western Europe is not interested in Ukraine. It is not stable enough yet. Western European countries concentrate their attention on Hungary, Poland and Czech Republic. Also Ukraine itself was not ready for the cooperation with the West. Their internal problems are too big. Ukraine (read Kuchma) is considering economic relations mainly with Russia. The question is if this position is the right one and whether Ukraine will be able in the future to be an independent player on the European level?

1

The biggest parties or movements in the 450-seat Assembly are national democrats (Rukh), Agrarians, Socialists and Communists.

2

This pact is often compared to the Polish so called Sinai Constitution, the legal act, which is dividing the power between the Government, the Parliament and the President

3.2. National Identity in Ukraine

The concept of national identity is one of the most changeable values depending on the city, where the questions were asked and on nationality too. In general, Ukrainians consider their lives to be more influenced by democracy than Russians do. They are more optimistic about the future and consider that the main changes that democracy has brought are social ones. Among them, the possibility of speaking their own language is one of the main points. Ukrainians also show a bigger interest in following political developments. Most of them see a positive evolution in politics. The reasons given by those, who consider the political development as negative, are: Mafia and corruption, economic crisis, inflation, and despite democracy, that some politicians are still the same and that these are not interested in the independence. Hearing this makes you think that the unsatisfied people would prefer deeper changes.

This optimism among Ukrainians is associated with the feeling of being closer to the Western Europe than to Russia. This tendency is especially stronger in Lviv where most of the population is Ukrainian. By the way, none of them referred to their city as Lvov, but Lviv (in Ukrainian). In any case, this feeling of proximity comes from indirect sources of information, because, of course with the geographical differences, less than the half of young people have been abroad. Those, who did so, went mostly to Eastern European countries.

In general, young people answered "yes", when they were asked whether they feel proud to be the citizens of independent Ukraine. Affirmatively answered around 70% in all Ukraine. The next question we asked students, was whether they had ever considered emigrating from their country. Over 60% said "yes", but in all cases due to the economic reasons. This tendency was stronger among Russians, in Sevastopol, where the crisis is harder. The positive answers were growing together with the age.

The difference between Ukrainians and Russians has been already mentioned. On the map, the areas mostly populated by Ukrainians (Lviv) and Russians (Sevastopol) are the two ends of the rope. In Kyiv and Zaporizhzhia, where the percentage of both nations is rather similar, the answers are dependent on the nationality.

For what we could see in Crimea the difference is ethnical (much more Russians), but also economic (worse situation). All this supports the solid wish to strengthen their links with Russia.

We can say that we did not see the significant difference between Eastern and Western Ukraine as some people pointed out before. This difference exists, but is not so urgent. Just in Crimea the gap seems to be bigger.

As a summary we could see that there is a wide-spread national awareness about Ukraine as a new country. A big majority of young people recognize themselves as citizens of Ukraine.

3.3. Youth's Attitude towards Current Political Development

During our Case Study Trip to Ukraine we interviewed 87 students in different places of the country. Our working unit asked the following question:

"Do you consider the current political development (c.p.d.) as positive or negative?" The answers from males and females differed in an almost equal degree in all regions of Ukraine, but the differences showed up, when we took into consideration the nationality of our interview-partners. The general overview of the answers shows that males do consider the current political development more positively than females all over the country, even though the majority of people are not satisfied with it. 39% of the males considered it as positive, 22% of the females did so. There were 50% of the males not satisfied with the c.p.d. 57% versus of the females. 11% of the males did not know what to think about the situation, more females thought like this, 21% precisely. This gives an amount of 29% of the students interviewed by us, who were happy versus 54% of those, who were not satisfied. 17% of interviewed students had not opinion.

Splitting up the answers into nationalities we could notice a different picture of the situation among young people in Ukraine. According to the regional spread of nationalities we expected some different outcome, but maybe it depends on a slight lack of criteria in the choice of our partners. We had almost no concept to avoid unobjective choice of interview-partners because we were rarely aware of the impact of this problem when we worked out the questionnaire. So 37% of Ukrainians where happy about the situation, 40% were unhappy. There is a low percentage of satisfied Russians (13%) and a big amount of unsatisfied ones, which elevates at 83%.

22% of Ukrainians did not know how to consider the c.p.d. versus 3% of Russians. Attention, there is a big regional difference! In Lviv (11 interviewed people) 36% of interviewed students were satisfied, 40% were not and 22% had not opinion. Lviv is inhabited by a majority of Ukrainians. In Kyiv (35 interviews) we noticed that 31% were happy versus 37% unhappy people (31% could not decide themselves). In Kyiv there is still a majority of Ukrainians. In Zaporizhzhia, a town with quite equal Russian and Ukrainian population, we were rather surprised to hear that 53% of the interview-partners expressed themselves positively towards the c.p.d. 29% were unhappy and 18% couldn't tell us their opinion. We expected a more negative attitude because of the higher percentage of Russians in Zaporizhzhia. In Sevastopol, with large majority of Russian population, the level of negative answers was very high, according to our expectations. We asked 24 people and got 4% of positive answers versus 96% of people who were not happy with the c.p.d., the percentage of undecided people is 0.

The reasons of positive evaluation of the c.p.d were as follows. The interview-partners, who considered the c.p.d. positively took into consideration the better political and economical background of these times. Some said that any change can only be positive, the openness of society was a positive point for some people too. Finally some had the impression to have more chances in this system. Another positive point was independence of the republic, more personal liberty and choices for life planning, the own currency was considered as positive as well as pluralism and risen economic and social mobility.

The reasons for being unsatisfied were the incapability of political leaders and the gap between people and the government as well as the gap between promises from the government, people's expectations and the real situation which often shows a big difference. Some also mentioned that there were the same people ruling the country like before the political changes and were upset about corruption and uncertainty of the development.

3.4. The Political Role of the Ukrainian Youth

The increasingly depoliticized nature of Ukrainian society can be said to have adversely affected the younger generation as is already regrettably widely the case for older segments of society. This is remarkable, especially when the importance of student activities cannot be overlooked in Ukrainians struggle for independence only five years ago. Democratic or political representation, however, does seem to have experienced some development and acceptance, especially at the most obvious center of youth activity - academic facilities.

Several organizations are very active fostering what remains of the euphoria over independence felt so deeply by the youth as they staged protest events all over the nation in 1990. More than 100,000 students were mobilized in hunger strikes that eventually forced the parliament to adopt a bill accepting some of their demands. Most student organizations are now confronted with the grim reality of apathy that has overcome the population as a whole as it gets down to the arduous and often discouraging everyday business of creating institutions for representing themselves. What appears to have been a driving force in the peaceful revolution had waned in the aftermath of independence; "They were busy celebrating success for all this time, and never went to work building on it" seems to be the popular sentiment about why little has been established in the way of democratic infrastructure in the last years.

The student movements were far ahead of most of Ukrainian society, which was ill-prepared for the responsibility connected with self-governing. Together they acted as a catalyst with a common goal and platform. Unfortunately, after independence was gained a split of national democratic forces embodied by the two leading movements, Ukrainian Students League and Union of Ukrainian Students, caused a struggle that contributed to the failure of the young Ukrainian democracy. The two divided factions that resulted the National Movement (Rukh) and the Ukrainian Republican Party, were rendered almost powerless in the face of entrenched bureaucracy in government. Their combined force may have been sufficient to depose much of the old nomenclature and establish a new political culture, but their separate efforts were hard pressed to institute fundamental changes, reflected in the staying power of the anti-reform government led by Ukraine's first president L. Kravchuk. Today many organizations seem to be drawing renewed motivation from the future prospects for their country manifested in current events like Ukraine's recent admittance in the Council of Europe.

After independence was reached there was a clear development in youth organizations away from direct political activity towards more social activities. In light of feelings of powerlessness and the split up of national forces, it is no surprise that many of the groups began directing their efforts at issues closer to home. Political activities took a back seat to issues like study conditions, living conditions and employment. Organizations like the Front of Student Social Affairs, The Student Brotherhood at Lviv University and Young Diplomacy at Lviv University are now very engaged in improving the lives and prospects of young people. Their main goals lie in the social adaptation of youths by providing consultation in business affairs, law, registration issues, acquisition of equipment, computer skills and expertise essential for employment. Job placement, assistance in research, grants, student exchanges are further activities pursued by active student organizations. Fortunately, these organizations haven't forgotten that there can be little or no change in the economic situation without political reforms. They support reform-oriented deputies in government in an effort to push through vital changes. They are active in committees in the central government, ensuring a flow of ideas with student representatives in government positions and they organize meetings and conferences at the universities with influential officials to ensure that channels of communication remain open.

In addition to efforts on social issues affecting young people, many of these organizations have taken it upon themselves to alert the electorate of the dangers political passivity and apathy can present. They stress getting involved to ensure the process of change. Encouragement to vote and general participation in the democratic process are cornerstones in their strategy. These are still tumultuous times as splinter groups are disappearing, new ones are being created as work goes on in rebuilding a nation. A new constitution is in the works that would complete the first major stage in political and economic reforms. Property ownership and provisions for a multiparty system with parliamentary-presidential borrowings are but a few of the anchors of the new constitution. The concentrated efforts of these youth organizations represent a positive contribution to the normalisation of Ukraine in its transition to a democratic and free market oriented society.

PART II

1. The diary (day by day)

September 8 - 10: Arrival of participants in Warszawa, sight-seeing, first coordination and orientation meetings

Monday, September 11: Introductory lecture in Ukrainian Embassy in Warszawa (topic:

"History of Ukrainian foreign service and External Relations), departure to Lviv

Tuesday, September 12: Early morning Arrival in Lviv, visit to opera

Wednesday, September 13: Meeting with Ukrainian students at Lviv University and the presentation of AEGEE, lecture on "The History of Western Ukraine", brainstorming session about the questionnaire, sightseeing in Lviv, visit to historical places

Thursday, September 14: Meeting with the representative of the Open Society Fund in Lviv ("Possibilities for Ukrainian students to study abroad"), visit to the Coca-Cola plant, meeting and round-table discussion with the representatives of youth organisations ("The ways students can influence the society"), work on collecting questionnaires (doing interviews with students), departure to Kyiv

Friday, September 15: Arrival in Kyiv, official meeting in the House of Ukraine (at the occasion of the inauguration of the Documentary and Information Center of the Council of Europe in Kyiv), meeting with our patron Mr. Daniel Tarschys, Secretary General of the Council of Europe, brainstorming and coordination meeting

Saturday, September 16: Lecture on "Foreign Policy of Independent Ukraine", presentation of AEGEE and the meeting with students from Kyiv, questionnaires, sightseeing (Lavra, Maryinskij Palace, etc.), visit to opera

Sunday, September 17: Lectures 'The History of Cossacks", "Political System of Ukraine", questionnaires, meeting with different student organisations (panel discussion on "Political involvement of students in Ukraine")

Monday, September 18: Lecture on "The Culture of Ukraine", group I visit to Chornobyl, Group II departure to Zaporizhzhia

Tuesday, September 19: Organisational activities for group I departure to Zaporizhzhia, Group II (in Zaporizhzhia) visit to "Ukrainsky grafit" Ltd. (company producing graphite, electrolytes, etc.), visit to Hortytza island, Sanatorium of "Ukrainsky grafit" Ltd. and to Museum of Cossack's History

Wednesday, September 20: Arrival in Zaporizhzhia Group II (again together!), lecture on "The Relations with National Minorities and the Respective Policy of Ukraine"), presentation of AEGEE and the meeting with students, questionnaires, departure for Sevastopol

Thursday. September 21: Arrival in Sevastopol, sightseeing tour, visit to Sevastopol's Panorama and other historical places

Friday, September 22: Questionnaires in Sevastopol Politechnical University, visit to ancient Greek town of Chersones, meeting with the officer of Ukrainian Black See Fleet (discussion on "The Problems with the Division of the Fleet between Russia and Ukraine" (from Ukrainian point of view))

Saturday, September 23: One-day trip to Yalta, visit of the place of Yalta conference (1945), beach sunbathing and swimming

Sunday, September 24: Evaluation of questionnaires, brainstorming and evaluation session, task division for the results, visit to the marine's base of Russian Black See Fleet (continuation of the discussion on "The Problems with the Division of the Fleet", this time from Russian point of view)

Monday, September 25: Departure from Simferopol to Lviv, the whole day in the train (for 35 hours!), final arrangements and last evaluation meetings

Tuesday, September 26: Night crossing the border between Poland and Ukraine. The End!!

2. General topics

2.1. HYGIENIC STANDARDS

Generally I can distinguish three main problems. The first is the problem with toilets. Generally it can be stated that the situation of cleanliness is very bad almost all over Ukraine. There were just two toilets, one in Coca-Cola factory and one in one of the most expensive pubs in Sevastopol that almost had the western standard (that means almost clean, equipped with a sink with running water, towel and soap).

The second problem was simply to take a shower. Besides the fact that we rarely had the luxury of hot water, sometimes we did not have water at all (in Lviv running water was available from 6am to 9am and from 6pm to 9pm).

The third problem was connected with the storage of food. For example we noticed that ice-creams were sold on the street without any cooling system The situation was even worse with raw meat. Besides the fact that meat is simply lying on newspapers at markets without any cover (flies, etc.), even in private houses meat is stored in refrigerators without any protection.

After these facts concerning the differences in habits in hygienic standards we are nevertheless not entitled to say that people in Ukraine take less care about hygiene. From the medical point of view it is simply the fact that people from this region have much stronger immunity system. Therefore they do not have many problems with infections even though there is less cleaning that we have criticized.

There are at this time more crucial and urgent problems in Ukraine than the problems of clean toilets, etc.
Peter M. Kandutsch, Innsbruck, Austria
2.2. STUDENTS' LIFE
In Ukraine student's life usually starts at the age of 16-17. Work and/or money are from the beginning the motors of this life.
A more school-like system gives main part to work and exam stress. Private universities are officially expensive, but state-owned universities also turn out to be expensive because of wide-spread corruption: more or less official entrance fees, bribes as an alternative way of passing the exams or to be allowed to go on studying. The gain of independence of Ukraine resulted in the collapse of the use of Russian language in universities: though, even in Western Ukraine some lectures are still being held in Russian, most of them are now in Ukrainian.
Scholarships are very low ($ 3-5 per month) and paid late and therefore most students depend on their parents. Some students are getting used to work, but their mentality advises them to expect everything from the government like in old times. Those willing to work, have, due to the economic situation, many difficulties to find the job besides their studies.
Most students live with their family and usually have there relatively good facilities to study, but less independence. This is probably one of the reasons, why students are getting married so young. Also the relations boys/girls are traditional and the girls are trying to look sophisticated and older. Students coming from other towns live in very bad conditions in university residences.
Although students have to survive in quite tough society, a large part of student's life is devoted to leisure time and social life: mostly sports and parties at home. Students seem not to have interest in politics, reality either in culture and are more and more concerned how to get money to have fun. Most of them do not believe in any good future and feel out of place in their own society. They are very curious about students (and their student's life) coming from abroad. Warm welcoming guaranteed!!
Angele Postolle, Montpellier, France
2.3. APPEARANCE OF BUILDINGS AND CITIES
Lviv
Nice and surprisingly well-preserved center. Many buildings are in original condition without being renovated. Many of them are from the Habsburg monarchy. Beautiful style of buildings, but there was not enough money to renovate them or people just did not care about it. Nowadays you can see that some buildings are going to be renovated, if it is not already too late. They can be the pearls of the city.
Kviv
The capital of Ukraine. In the center there are a lot of statues and other buildings used for propaganda. Buildings in Kyiv are in a better shape than in Lviv. More modem buildings, almost the same as in a normal Western European city.
Zaporizhzhia
An industrial city. Not so many old buildings. General impression is that everything is dirty and in poor condition. There is a lot of green in the city to make it little bit more comfortable. Big broad streets as in all Ukrainian cities. The main street in this city is 16 km long and is called Alley of Lenin. On the city edge (and sometimes not only there) you can find houses, which look like farms with animals. It seems that people care more about their appearance.
Sevastopol
Many nice buildings together with Yalta are the pearls of Crimea. Stalinist style a bit like neo-classical style, but also many buildings are in Chruschov spirit. The landscape of Crimea makes the cities even more beautiful. Many buildings look nice from outside, but from inside often sober, old, dirty, etc. (like hotel Sevastopol).
The suburbs in all cities look totally different than the centers. The idea is to get as many people in a small as possible area with relatively big flats. They look all the same. There is no green, only concrete flats and dust. If you do not know the way there, it is easy to get lost. There is almost no public light at night. Living in such flats is awful and depressive, not human. At the beginning we could not imagine that people could live there, we had no words for it, although finally we got used to it.
A lot of people come to the cities from the rural area to find the work. This is the only possibility they have. There are also a lot of people living with not sufficient money. They can not choose in what kind of house they want to live.
Bart Neerscholten, Rotterdam, The Netherlands
2.4. PEOPLE (THEIR BEHAVIOR, HOSPITALITY TOWARDS FOREIGNERS)
Ukrainians are in general very hospitable and generous people. Once you surpassed the words of introduction and barriers are broken you may expect at least an invitation for the dinner. The farther one goes East in Ukraine, more and more people become curious and poorer. For most of them we were the first foreigners they had ever met.
But sometimes instead of kindness, certain envies and self-interest may predominate. If you speak English, you are automatically assumed to be the rich foreigner, who possesses inestimable amounts of dollars and opportunities to enjoy the life. Their reaction then might vary from aggressive behavior and rude remarks to requests for visa invitations or direct marriage proposals by nice and well-educated teenage girls or by parents, who want to secure their child's future.
Ukrainians are very proud people, begging is limited either to real street people, whose number still remains low, or to children with attentive eyes and older people struggling at the edge of existential minimum.
If you are for them just another stranger, they will not feel embarrassed to take in few more dollars. When you are offered the hospitality of their home, do not ever think about reimbursement, you will make them happy by accepting food and drinks offered and by taking part in a long conversation to satisfy their curiosity. The small present at the end showing your gratitude will be accepted with the appreciation. Do not make them feel poor, because they already know they are so.
Andrej Grobler, Ljubljana, Slovenia
2.5. SHOPS AND SHOPPING
There are almost no big stores, supermarkets. Most of them look quite different from those we are used to. There are no special departments, products are mixed, the whole store seems to be in a mess. We saw only one supermarket, which was comparable to ours. Western products are offered there at the same and even higher prices than in Western countries (Nutella $4.5, on the street 450.000 kupons, exchange rate $1 =180.000 kupons).
There are only few shops mostly groceries, they are not attractive, windows and displays are not very well designed. Everything looks helpless. Most of the shopkeepers are unfriendly. Often there are queues for bread, milk and other daily products. We also noticed a long queue in front of Reebok shop in Kyiv.
The open-air markets are very big and there are the most vivid places. You can get everything there, also food of very high quality (fruits, cheese, butter, vegetables, etc.).
Meat is not offered in a very hygienic way, the pieces of meat are presented on the counter or the shelves without any protection and cooling system. There are also a lot of flies around.
On the streets there are many kiosks offering different goods like drinks, cigarettes, sweets. There are also a lot of possibilities to change money on the street. Most of the kiosks are open till late in the evening or even 24 hours a day. The prices of Western, but also Turkish and Polish goods are often almost on the same level (or even higher) as in these countries.
Besides those kiosks there are many people on the streets, who sell own home-made products (pierogi, bread, fruits), music tapes, cigarettes, shoes, flowers, etc
In case that salesmen in kiosks are lacking the change, chewing gums and candies are used instead of small banknotes. There are a lot of people on the streets selling whatever they have or whatever from their own property (like plastic bags, sponges, etc.). People approach potential customers in a very modest way, they do not even say anything and are simply waiting for business.
Those, who have nothing to sell, are just begging for money, especially old people showing signs with something written on them. All in all, the street life in towns is very vivid.
Georg Portenkirchner, Kitzbuehel, Austria

Rolf Wienkoetter, Innsbruck, Austria
2.6. EVERYDAY PROBLEMS AND SHORTAGES
Generally living standards in Ukraine are obviously lower than in Western Europe or Visegrad states. People come alone with major lacks of comfort like running water (during the certain periods of the day) no hot water in some regions, electric power is being cut off several times a day. We made the experience that even making phonecalls was quite complicated. First you have to find the phone, then it has to work and finally you must be lucky to get the connection.
For the illustration of the extent of such shortages we can quote the example of one soft-drink company, which bad to hold up the production of drinks because of the lacking supplies of sugar and water...
You can buy food at the market, but can not go to eat at some restaurants because there are simply almost none. If you want to eat some good meals, you will have to cook them on your own. Restaurants do not serve sometimes what is on the menu and generally the choice is very poor. We could not find any high-quality gastronomy. Another problem is the quality of toilets. They are generally disgusting, no paper and very bad hygienic standards. I had the impression of general lack of water. I could not wash my hands, when I wanted.
Generally people do not care a lot about all these lacks of comfort and are used to them.
David Katzlinger, Innsbruck, Austria
2.7. SOCIAL GAPS
The differences in living standards in Ukraine are noticeable since the first moments of staying in this country: western cars beside beggars, poor suburbs without running water and, on the other band beautiful, but not so numerous family houses, exclusive discos and pubs and vodka as the only one entertainment for the poor.
The average salary is not enough even to purchase basic products. No wonder that, according to official statistics, 80 per cent of the society have additional incomes: mostly from "black-market" trade. Let's take as an example the couple of outstanding and well-known surgeons, who are importing and selling western used cars. Living standards do not depend on the achieved level of education, but most of all on the ability to do business.
Therefore it is quite understandable that most adaptable among the society to these conditions are young people. In the worst position are especially older people, who are used to the state protection and assistance. This leads towards the situation when Ukrainian society is getting more diversified and divided especially between young and rich people and, on the other hand, old and poor population.
Anita Szarlik, Warszawa, Poland
2.8. DIFFERENCES BETWEEN WESTERN AND EASTERN UKRAINE
Geographical division between Eastern and Western parts comes along hand in hand with cultural differences and different mentalities of citizens of this country.
Western Ukraine seems to be closer to Europe. Ukrainians here have the possibility to watch European TV, have better understanding of free-market economy principles, but they are "separated" from Europe by the strong feeling of their own national identity. This feeling often results in nationalism - strong myth of Cossacks, unfriendly attitude towards Poles (Lviv) and Russians.
In Eastern Ukraine the Russian influence is more noticeable. Ukrainians here speak mainly Russian, they are watching Russian TV stations. This is the main reason, why the differences between them and Russians are not so big as in Western Ukraine. This positively affects mutual relations between those two nations. The reduction of those differences between both parts of Ukraine can create certain problems for Ukrainian citizens in the future, especially the question of Russian minority.
Joanna Lesrek, Warszawa, Poland
2.9. PUBLIC TRANSPORT
Since the proportion of the population owning cars is relatively small compared to Western Europe, most of the population relies heavily on public transport. Prices are affordable, but still very high compared to the small income, although it is questionable whether prices cover energy costs at world market prices.
Local transportation is mostly covered by buses, trams and trolley-busses. Kyiv has got 3 metro lines. Many buses and trains are rather old and in poor condition. They are overcrowded at most times of the day, so people queue and sometimes wait for the next bus. Due to the overcrowding, passengers generally avoid communicating. They look at the floor and remain silent, since many of them expect aggressiveness in a crowd. Persons not behaving according to these rules (as we sometimes did) are perceived as savages and antisocial elements. Bicycles are hardly used as means of transport. This might be due to the large areas covered by cities cover in Ukraine. If there is no public transport, it is also possible to raise your hand, stop a car on the road and negotiate a price for being driven somewhere.
Local trains (elektrichka) are in bad shape too. They travel up to two hours from a city. Long distance trains go at an average speed of 6O km/h. Conductors on the train still have the same old attitudes as in Soviet times. Many of them are unfriendly and don't treat you as a customer (e.g. they decide whether it is good for your health to open the window or not). They also try to force you to buy additional services you don't need.
Klaus Liepach, Aachen, Germany
3. One more sentence..

.

Instead of closing word in this place we present here the opinions of students about their own country. They were asked to describe Ukraine in one sentence. Please, make your own conclusions!

- Country without state government

- Something exists, something works, but nobody knows why

- Great country with extraordinary future (I hope that this is true)

- Country of contrasts

- It is looking for its own way to heaven

- Ukraine is great country for Ukrainians, who live in it

- Ukraine connects West and East, South and North

- Ukraine does not know its way of development
- If you have a good Ukrainian friend (at least one), you will also feel yourself here as at home
- It is my country
- Young country with rich ancient history
- Both precious home and shit
(Those were the answers in Kyiv)
- A big market with a big future
- Too much nationalism, people must do what they are speaking about... I do not believe in future and democratic changes here
- Country of good, but naive and childish people
- Beautiful and original with good people and good prospects
- Trying to stand on its own feet
- A lot of politicians trying to get a small pie into pieces for everyone
(Those were the most typical answers in Lviv)
- Crazy chaos
- Ukraine is a backward country
- It is independent, but poor and awful
- Country of the third world, like Africa before discovering
- No freedom for cultural and clever people
- Ukraine is the country with no future
- Good people, but not good politicians, they are lacking professionalism
- Ukraine is an official bankrupt
- It is my Motherland
- I live here and love this country
- I do not consider myself to be Ukrainian (citizen) so Ukraine is not bothering me
(Answers from Sevastopol)
- Famous of Zaporozhyan Cossacks
- Ukraine has the potential to be a developed and rich country
- Country with a lot of possibilities, which are not used
- I love Ukraine
- It is my favorite country and I believe in its future
- Country with great future
- Now we are in crisis
(Those answers are from Zaporizhzhia)
4. Thanks
Dear Reader, I do not want to bother you, but I would like you to know all people behind this unique project. I think that they all deserve to be mentioned here!!
Institutional help:
Mr. Daniel Tarschys, Secretary General of the Council of Europe
Mr. Olexander Urban, First Secretary of the Ukrainian Embassy in Warszawa
Mr. Sergej Balabanov, Marketing Manager of "Ukrainsky grafit" Ltd., Zaporizhzhia
Mr. Andriy Sernetski, General Director of Coca-Cola Amatil Ukraine Ltd., Lviv
Participants:
David Katzlinger, AEGEE-Innsbruck, Austria
Rolf Wienkoetter, AEGEE-Innsbruck, Austria
Peter Kandutsch, AEGEE-Innsbruck, Austria
Georg Portenkirchner Speaker of the East-West Working Group, Austria
Alberto Luis Alonso Clavero, AEGEE contact in Zaragoza, Spain
Ralph Boehlke, AEGEE-Saarbruecken, Germany
Falko Schroeter, AEGEE-Saarbruecken Germany
Markus Schoenherr, AEGEE-Passau, Germany
Klaus Liepach, AEGEE-Aachen, Germany
Trent Zummallen, AEGEE-Hamburg, USA
Angele Postolle, AEGEE-Montpellier, France
Beatrice Collet, AEGEE contact in Besancon, France
Bart Neerscholten, AEGEE-Rotterdam, the Netherlands
Andrej Grobler, AEGEE-Ljubljana, Slovenia
Andrej Malejcik, AEGEE-Kosice, Slovakia
David Stulik, AEGEE-Warszawa, Czech Republic
Jaroslaw Kuzma, AEGEE-Warszawa, Poland (also thanks for the perfect financial assistance!)
Anita Szarlik, AEGEE-Warszawa, Poland
Joanna Leszek, AEGEE-Warszawa, Poland
Organizers:
Slavik and Jarinka Mischenko, AEGEE-Lviv, Ukraine
Vika Kostetska, AEGEE-Lviv, Ukraine
Masha Popovich, AEGEE-Kyiv, Ukraine
Dmytro Vityk, AEGEE-Kyiv, Ukraine
Slavko Grigorchak, AEGEE-Kyiv, Ukraine
Anna Usikova, AEGEE-Kyiv, Ukraine
Bohdan Maslych, AEGEE contact in Zaporizhzhia
and many others.
Program assistance and consultations:
Philipp von Klitzing, AEGEE-Aachen, Germany
Egens van Iterson Scholten, President of AEGEE-Europe, the Netherlands
Johannes Kind, AEGEE-Europe, Germany
Pavel Cernoch, AEGEE-Praha, Czech Republic
The annex
THE QUESTIONNAIRE
1. Have you ever been abroad?
¨ yes (which countries) ¨ no
2. Do you think that democracy is affecting your life?
¨ yes ¨ no ¨ don't know
If yes, in which way?
3. Do you think it is important to follow political development?
¨ yes ¨ no ¨ don't know
How do you inform yourself?
¨ by press ¨ TV ¨ discussions ¨ others
4. Do you consider current developments in Ukrainian politics and government as positive or as negative? Why?
5. Do you feel closer to Russia or to Western Europe?
6. Where do you/does your family get your/their income from?
7. What kind of company you want to work for later on?
¨ state-owned ¨ Private foreign ¨ Private Ukrainian ¨ set up own business
¨ none of these
8. How far should the government intervene in market affairs?
¨ not at all ¨ as much as necessary in order nobody is starving
¨ to guarantee the housing and jobs ¨ government should control the economy
9. What are you afraid of?
¨ unemployment ¨ inflation ¨ social unrest (like strikes)
¨ corruption and Mafia in economy ¨ high taxation
¨ being sold out to foreigners (concerns Ukrainian economy)
¨ being not employed in your profession ¨ others (specify)
10. Which country do you prefer as a leading economic partner for Ukraine?
11. How big you think is the population of following minorities in Ukraine?
Russians.....% Poles....% Jews.....% Tatars....% Hungarians....%
Gypsies....% Gaugazans-..~% Germans....% others.......% (specify)
12. Do you have friends among different minorities?
¨ yes (in which) ¨ no
Do you see any cultural differences of these friends?
13. Do you think that minorities in Ukraine are treated better or worse comparing to Ukrainians?
¨ yes ¨ no ¨ don't know
14. Is the existence of minority in Ukraine advantage?
¨ yes (in which way? economy, politics, culture, others - specify) ¨ no
15. What do you think about human rights situation in Ukraine today?
¨ good ¨ average ¨ poor
freedom of religion
freedom of movement
freedom of expression
freedom of media
freedom of association
freedom of education
16. Do you feel frightened about the future?
¨ yes (specify) ¨ no ¨ don't know
17. Have Ukrainian people and their values changed? If yes, say, which and how.
Have you changed?
18. Is life getting more stressful?
¨ yes (specify in which way) ¨ no
19. What are the big influences in your life?
¨ information provided by mass media ¨ family ¨ church
¨ friends ¨ university ¨ culture ¨ others (specify)
20. Do you consider yourself East European?
To which country and nation do you feel closer?
21. Are you proud to be the citizen of independent Ukraine?
¨ yes (why?) ¨ no ¨ don't know
22. Have you ever considered emigrating from Ukraine?
¨ yes (reasons) ¨ no ¨ don't know
23. How would you describe Ukraine in one sentence?
— –